New developments for multi-board setup
Accessories for multi-board setup
In terms of order, safety and ergonomics, the new accessories for the multi-board setups are not only oriented to the requirements of modern work processes, but above all to specific customer needs.

Exclusive accessories, suitable for your Multi-board
Aluminium profile strut for attachment to the multi-board between the support columns
Pivot frame on the side for mounting on the multi-boards or on the worktop
Assembly fix to store inlets or tools in a drawer and hang them in the aluminium profile strut ready to hand when needed
Catalogues & brochures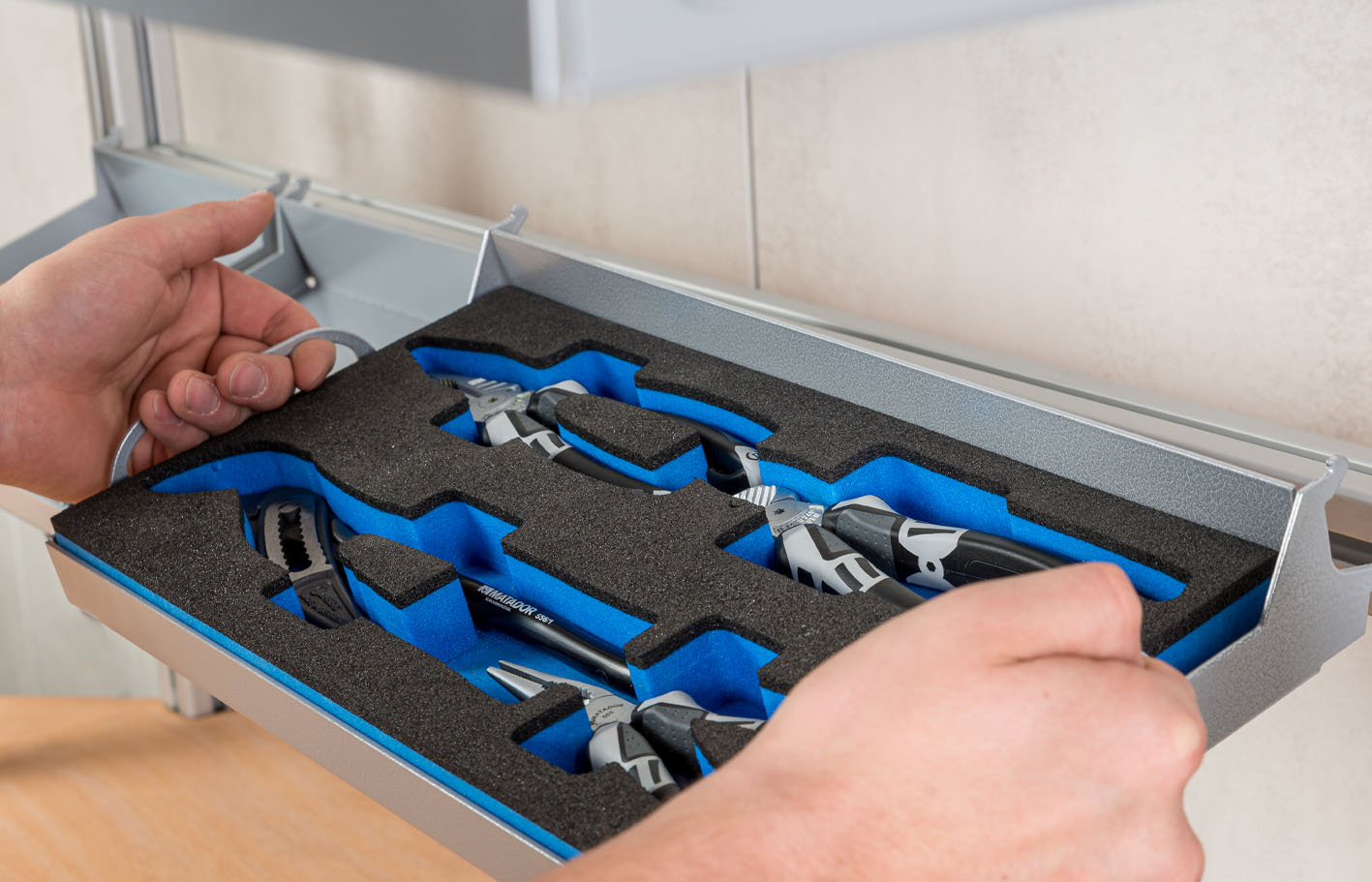 Workalu: Workplaces like a technology construction kit
Extension of product range with new aluminium profile plug-in system
Noble in appearance, easy to clean and adaptable for every room and every requirement.
Workalu systems are available with 4-leg and C-leg tables, single- and double-sided units, various linking options, add-on modules and corner connectors. Worktops are offered in different sizes, thicknesses and for different requirements, whether water-repellent, impact-, scratch- and abrasion-resistant or suitable for electrostatically sensitive areas.
Advantages of the workalu-system
High combination variety due to the modular system
Quick and easy combination options for all table variants and accessories
Highly corrosion resistant
Hygienic, easy to clean
Very light due to its low density
Quick and easy profile shifting with corner joints, double-sided frames and add-on modules
workalu® - The adaptable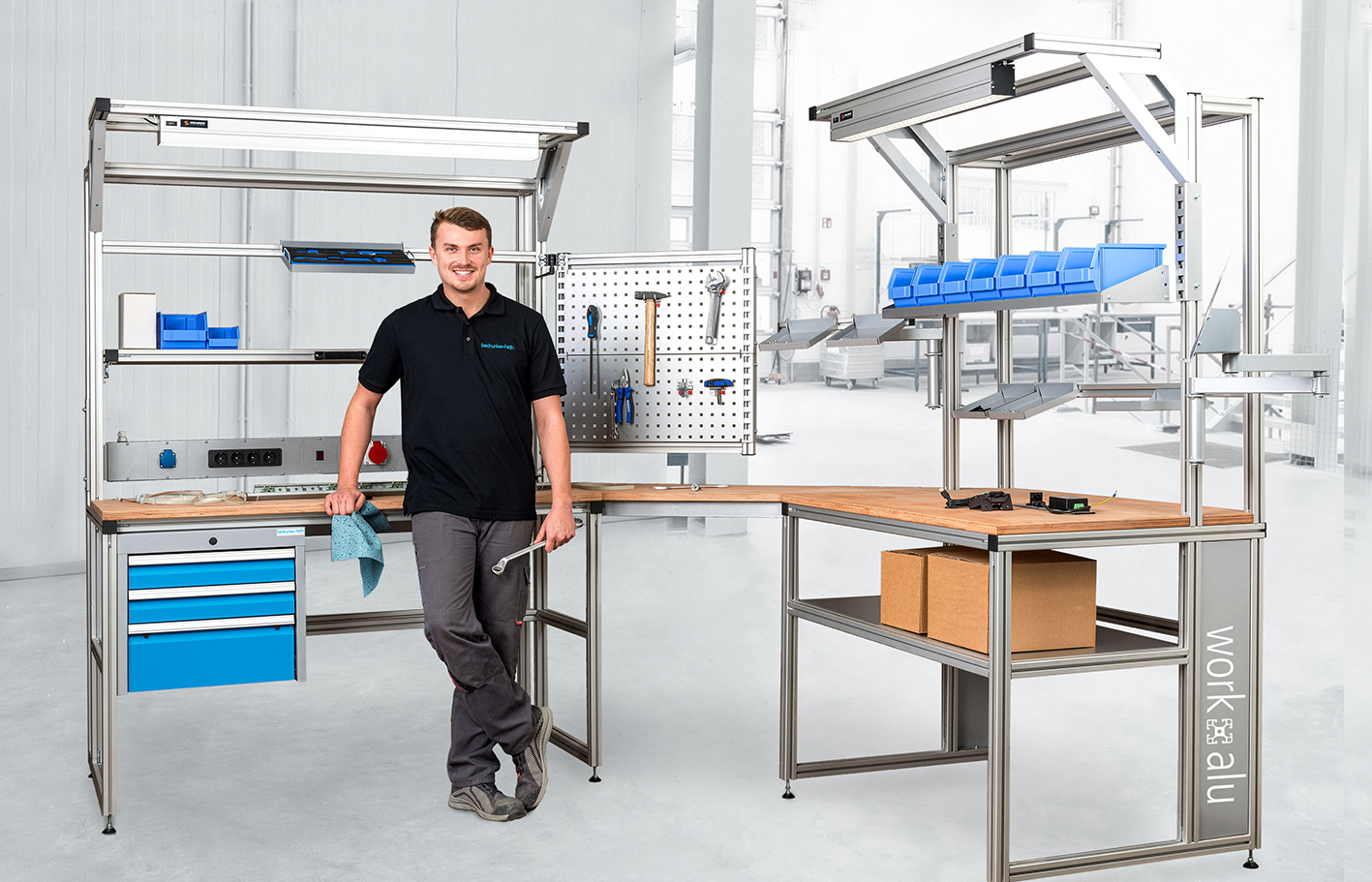 e-workdrive>>
Change location effortlessly
Less staff costs
Effortlessly fast start-up
Speed up business processes
Discomfort in the neck, shoulders and wrists is reduced
Sickness-related absences are minimised
Operation via control button on the ergonomic handle
Drive unit, control module and manual control unit
e-workdrive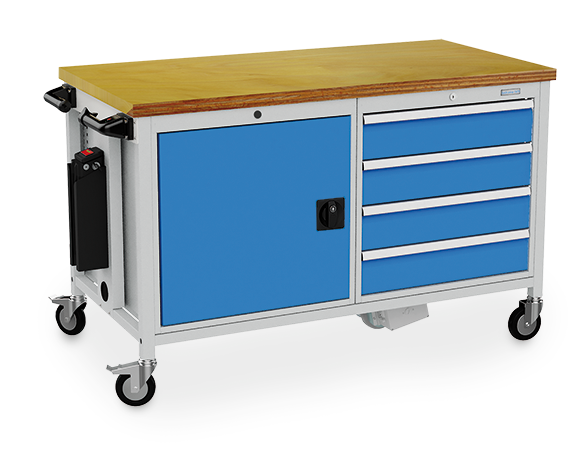 Workspace Equipment - Made in Germany
HiPerCab® - High Performance Cabinet
The new generation of drawer cabinets
Via an intuitive touchscreen the user is guided to the drawer, in which the desired item is safely stored and presented to the user. The drawers can be accessed by authorized users only.
HiPerCab® - High Performance Cabinet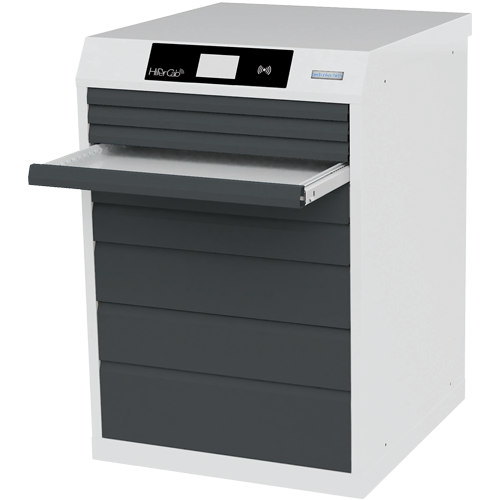 Bedrunka+Hirth is one of the leading manufacturers of factory equipment and manual workplace systems in Germany. At the headquarter in Bräunlingen in the Black Forest, Bedrunka+Hirth manufactures equipment for industry, trade and the service sector on an area of over 8,800 sqm. With a further location in Remscheid, to give customers from Central Germany an insight into the variety of products, Bedrunka+Hirth presents itself with a large number of exhibits in the showroom "Artwerkstatt Mitte". The product portfolio includes drawer cabinets, workbenches, CNC storage and transport systems, workplace systems with and without height adjustment (workraster, workergo, workline, hydline, powerline and workalu), interlinked workplace systems and mobile logistics systems as well as workshop accessories such as shelving, worktops, cloakroom and hinged door cabinets, and work chairs.

Concepts such as Industry 4.0, Smart Factory and Digital Twin are no longer plans for the future. Bedrunka+Hirth increasingly focuses on the Intelligent Industry and to meet today's challenges: overworked employees, increasing complexity, along with quality deficits. "Workplace 4.0" shows a solution for exactly these problems. The ergonomic assistant is used along the entire value chain: from incoming goods, to assembly and quality control, to outgoing goods and commissioning. The Tool-Server-Modular, TSM® for short, is a new generation of drawer cabinets complemented by a spiral vending machine and rotating drum device: Equipped with five different locking technologies, the modern cabinet series enables differentiated access control – as required, with extensive or simple role and rights management. In addition, the modular design of the drawers and compartments as well as the optional integration of storage and administration software offers the user maximum flexibility and investment security.