HiPerCab® - High Performance Cabinet
The powerful cabinet system particularly stands out with its user-friendly software
A multilingual user interface that allows language selection in German, English and French, and user identification via PIN code and RFID chip - our high-quality cabinet systems are equipped with information technology components that offer real added value. The user database records who has been granted access and when, and also allows access options to be limited in time. The administrator of a user company can manage user rights centrally, add additional cabinets or remove them.

The touch screen is located at the upper edge of the cabinet. The electromechanically locked drawers are extended in three stages. First, the drawers, to which the user is granted access, are opened slightly by the system. The desired drawer can then be opened further by pushing. The other drawers remain in provision mode. In the third step, the desired drawer can be opened completely (full extension). All other drawers remain locked for safety reasons, as the load capacity of individual drawers can be up to 100 kg. After withdrawal, the system ensures that the retracting drawer is braked, gently retracted, closed and returned to provision mode.

The HiPerCab® comes in a Medium and Premium version with different equipment, and as an add-on module, initially in widths of 705 and 1005 mm and in heights of 1019 and 1219 mm. The cabinet system is available with the same division options as our classic drawer cabinets. This also applies to other features of the cabinet system "made in Germany", such as the frame-reinforced and stable housing, the welded sheet steel construction, and the selectable front heights. As usual, the front of the cabinet can be coloured individually, for example to match the user's corporate design.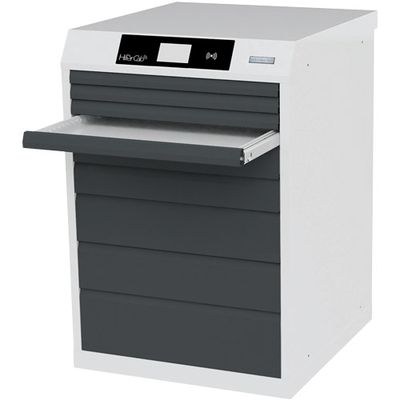 Intuitive touch screen
Multilingual user interface via language selection in German, English and French
User identification via PIN code and RFID chip
Dual use of RFID frequencies at 13.56MHz and 125kHz
Customer-specific RFID standard can be extended by update
Simple coupling with standard cable, mains power required
Central user database for all cabinet systems used in the company
Detailed event log and evaluation options
Identical divider material as with classic drawer cabinets