1969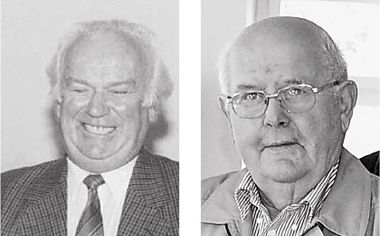 Founded by Paul Bedrunka + Otto Hirth
In 1969 Paul Bedrunka, together with Otto Hirth, founded the equipment production company in Bräunlingen. The commercial register entry followed five years later.

Mr. Hirth was in charge of sales, and was responsible for ensuring a stable order situation. Mr. Bedrunka coordinated and supervised the production. At that time, the customer base came from the region within a radius of 100 km. It all started with a small workshop in Bräunlingen. Initially, the two founders Paul Bedrunka and Otto Hirth employed six people.
1969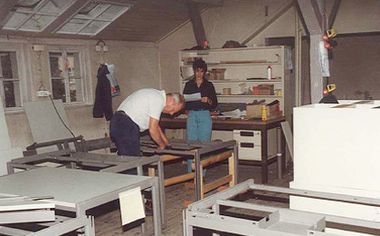 First worktables
Primarily table frames with crank adjustment were produced on a few square meters of production area. Sheet metal was processed entirely without a control system. Metal sheets were then painted by hand using liquid paint.
Office, residential and leisure industry supplier
1980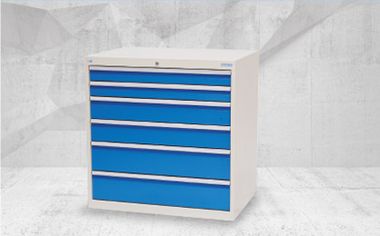 Drawer cabinets and workbenches T736
Resilient, versatile and stable - these were the requirements for robust steel cabinets and workbenches. For the company, this was an important step in gaining a foothold in the industrial equipment industry.
1982/83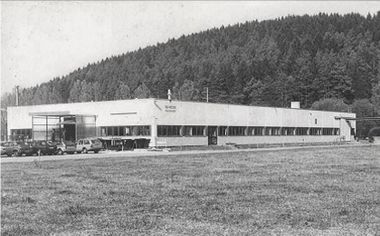 New building and relocation to new work space
The new construction on Gießnaustraße, built in 1982/83, created more space for new production and administrative areas. Over time, there were further additions. The number of employees, the machinery and the opportunities of market expansion in Germany grew steadily. The company kept extending its product range in the following years.
1985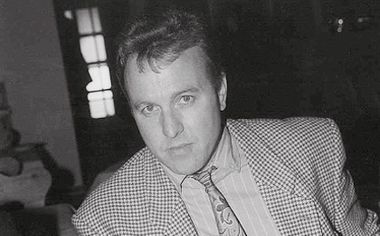 Ludwig Kellner becomes new managing director
When Bedrunka+Hirth was taken over by Pfalzmöbel, Bad Schönborn, in 1985, company boss Alfred Weckesser looked for a managing director and found one in his own family: Ludwig Kellner, his nephew, took on responsibility in Bräunlingen. He still remembers his first years well: "We were like a big family with a pioneering spirit and a talent for improvisation".
The motivation for everyone was and still is the fascination with tinkering, always looking for improvements and finding new solutions.
1990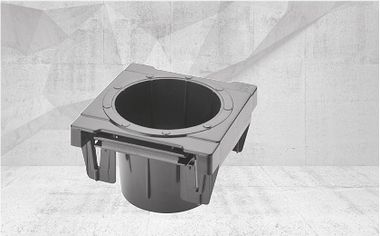 Proprietary CNC stock range
A new building block was created for the "CNC Systems" product line, which is now indispensable.
The production programme includes racks, trolleys and cabinets for the storage of CNC tools. Bedrunka+Hirth has its own tool inserts for most CNC tools, such as SK, VDI, HSK, MK and Capto.
1995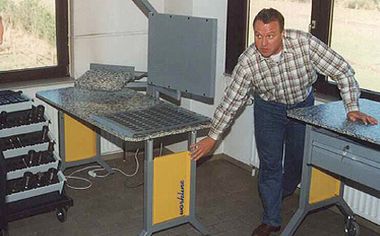 workline - First height-adjustable workplace systems
Looking back on the progress made at the time, Ludwig Kellner says, "A workplace must be designed in such a way that the activity can be carried out as efficiently as possible. If it is ergonomically adapted to the employees and production process, productivity increases because health damage, downtime and errors are largely eliminated."
1997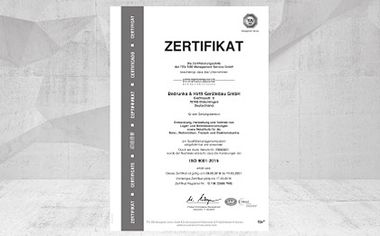 Certified to DIN ISO 9001
For the first time, the workplace equipment manufacturer was certified according to DIN ISO 9001. The quality management standard ISO 9001 is the nationally and internationally most common standard in quality management (QM). The implementation of this standard helped to improve corporate performance at all levels.
2000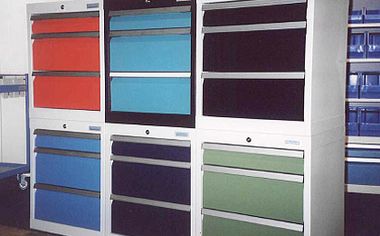 Drawer cabinets and workbenches T500
In order to further expand the product range, drawer cabinets and workbenches with a depth of 500 now have also been produced, which has had a positive effect on the product variety. Not only the depth, but also the different widths and heights have been continuously adapted according to customer requirements. Today our T736 series has nine different heights and four different widths in the standard range.
2004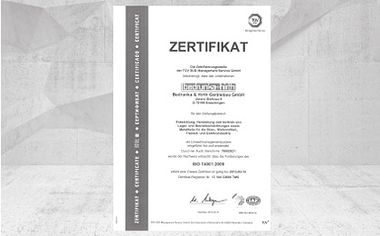 Technical Inspection Service certificate acc. to DIN ISO 9001/14001
In order to further increase quality, Bedrunka+Hirth has been certified with DIN ISO 14001. Since 2000, Bedrunka+Hirth holds the ISO 14001 certification - a globally valid and recognised certificate. It reveals weak points in environmental management and sets standards in sustainability.
2005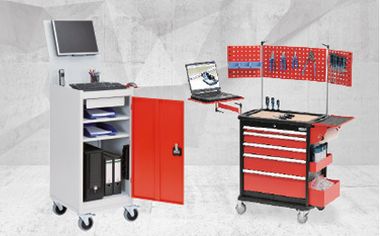 maxmobile - "A new generation of workshop trolleys"
Bedrunka+Hirth has designed a new generation of workshop trolleys with maximum mobility. It is not only practical and configurable according to customer requirements, but also impresses with its design and its versatile applications.

Computer cabinets
Changing digitizing processes, especially in industry, have created modern solutions for computer workstations.
2009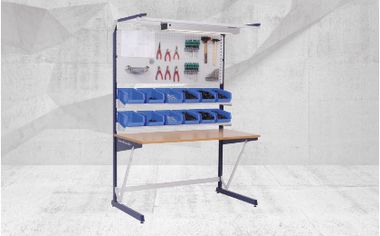 workraster
In order to constantly expand our workplace systems, a simple, cost-effective modular system with an individually adjustable height grid of 38 mm has been introduced. The basic module E consists of two simple base frames, supporting columns, trusses, supports and slab girders. Load capacity of the individual basic modules up to 300 kg.
It can be combined in many ways and has good options for retrofitting.
2010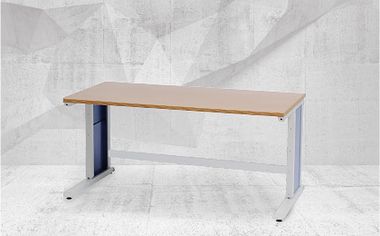 workergo - the innovative workplace system
Shortly after workraster went into series production, workergo followed a year later. A key advantage of workergo, compared to other workstations, is its modular design, which allows linking of several workstations. Various linear and corner joints make transport of the product obsolete, thus shortening the production cycle.
2011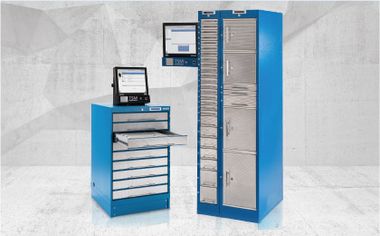 TSM® - Tool Server Modular
The Tool-Server-Modular, TSM® for short, is a new generation of drawer cabinets: Equipped with five different locking technologies, the modern cabinet series enables differentiated access control – as required, with extensive or simple role and rights management. In addition, the modular design of the drawers and compartments as well as the optional integration of storage and administration software offers the user maximum flexibility and investment security.
2014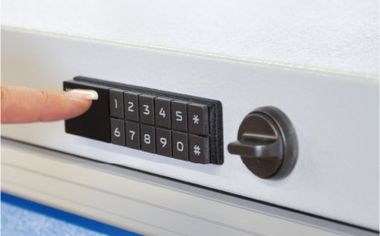 E-lock-systems - The new generation of electronic cabinet locking systems
Compatibility is the big advantage. E-lock-systems can be retrofitted to all Bedrunka+Hirth cabinets. They are self-explanatory and easy to program, are extremely user-friendly and eliminate the need for key management.
2015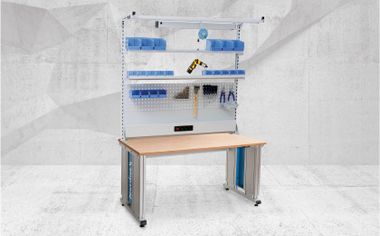 powerline (C-foot / 4-foot)
Powerline, the new heavy-duty table series, is a sit-stand workstation that can be ideally adjusted to any working environment by means of stepless, electric height adjustment. The system is characterized by particularly high load capacity and flexible design options. Our product range includes two variants with load capacities of 600 and 900 kg.
2015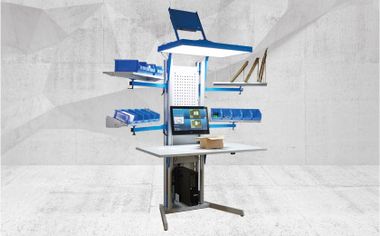 Workplace 4.0
Concepts such as Industry 4.0, Smart Factory and Digital Twin are no longer plans for the future. Bedrunka+Hirth increasingly focuses on the Intelligent Industry and to meet today's challenges: overworked employees, increasing complexity, along with quality deficits. "Workplace 4.0" shows a solution for exactly these problems. The ergonomic assistant is used along the entire value chain: from incoming goods, to assembly and quality control, to outgoing goods and commissioning.
2015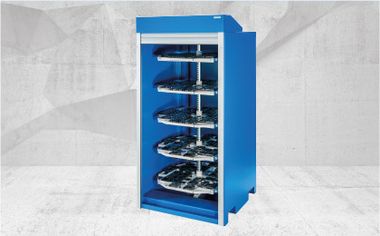 RotaRex® - CNC large cabinet
With the unique RotaRex® tool tower, we offer a rotating bearing technology for CNC tools for use in a very confined space and with the most comprehensive equipment possible. At the heart of the process optimization is a column made of steel precision tube. Plate-like CNC carrier plates can turn around its axis. These plates are held at the distance and at the required height by a grid system.
2015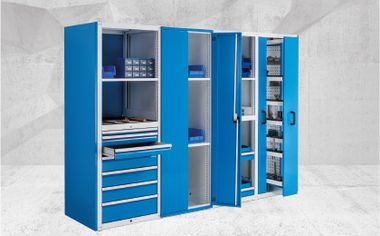 MRS® - Modular shelving system
The wide range of variants, equipment and accessories offers a variety of combinations that can be tailored precisely to the individual needs of metalworking companies and workshops. Thanks to its modularity, the MRS® grows with its tasks and can be supplemented and expanded at any time. Bedrunka+Hirth uses a special planning program including 3D visualization to ensure that everything finds its perfect place, from wrenches to valuable CNC tools. The result is systematic arrangement with emphasis on access control.
2016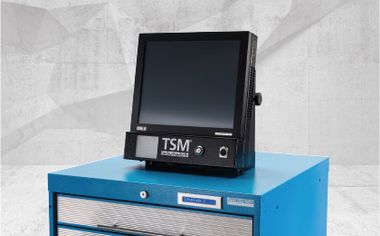 TSM® - New hardware & software
Having created several technical concepts and involved a number of customers, we worked with specialists for several years to create a new, modern, Windows-based software. The TSM® software consists of three modules coordinated to each other right down to the smallest detail. These are based on one of the most modern Windows platforms available on the market today.
2016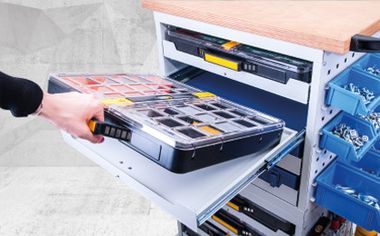 Flex-box
Mobile yet stationary - the right solution for every installation team. The sturdy sheet steel case cabinet for 4 compartments guarantees quick availability of the flex-box at the workplace. It can be wall mounted, free-standing or stacked. Both Flex-Box plastic and Flex-Box metal can be used.
2016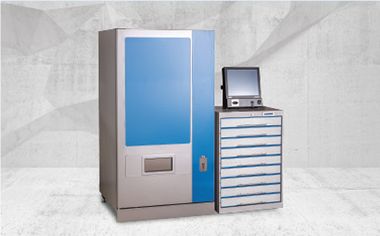 TSM® Spiral Vending Machine
The new and particularly economical "Spiral Vending Machine" complements the smart goods and tool dispensing system TSM® (Tool Server Modular). It is designed to help companies automate storage and controlled dispensing of C-parts, office and work materials, or repair and maintenance tools to help reduce consumption costs.
2016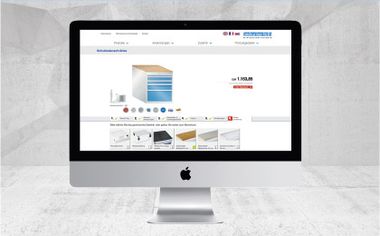 Website re-design and configurator
In six steps through all options of the extensive product range: we now make it particularly easy for our customers to individually design drawer cabinets and workbenches. With the online configurator, which is available on the website, the customers can design their equipment almost effortlessly.
2017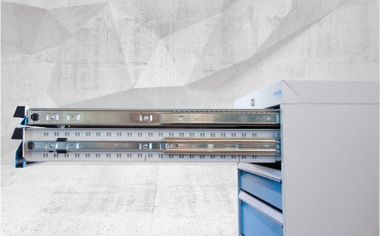 T736 series with full pull-out
All drawers of the T736 mm series are equipped with full pull-out. This makes work organisation much easier. The change makes them run smoother and looks more elegant. The Softclose option can be quickly retrofitted.
03|2018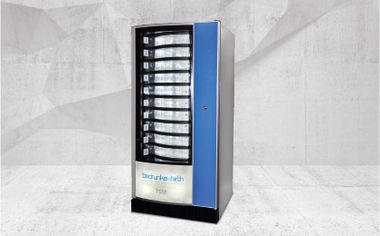 TSM® Rotating drum device
The rotating drum device can be controlled via our TSM® software, so that up to 180 products, optional 60, 120, 240, or 360 products can be stored. The user has individual access restrictions, a significant reduction in personnel costs and a 24-hour connection to any ERP system. It is also a visual highlight due to its attractive and inviting design with LED interior lighting and branding area.
05|2018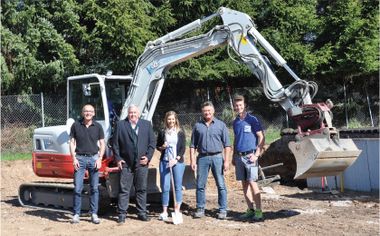 New development - further 4,000 sqm operating area
The first phase of construction began with the three-storey business building, which, in addition to administrative rooms, features a 300 m² exhibition hall. The ground floor houses an assembly area and the adjoining new dispatch hall. The second construction phase includes the new factory floor with sheet metal processing and goods delivery.
03|2019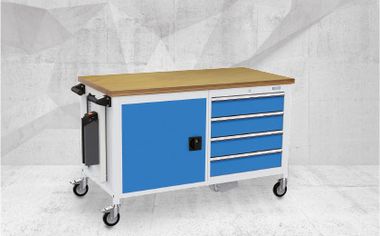 e-workdrive
With the new e-workdrive workbench, Bedrunka+Hirth continues its series of solutions for "healthy working" in production and workshops. The product was presented for the first time at LogiMAT in Stuttgart (February 19 to 21, 2019). The electric drive of the mobile workbench, which can be switched on as required, enables fast and effortless starting, even with heavy loads, and can thus accelerate operations. Above all, however, it relieves strain on employees.
03|2019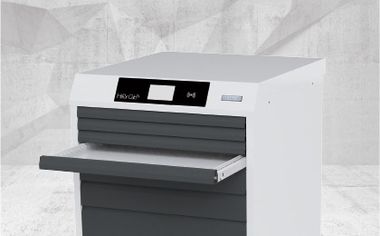 HiPerCab® - The new generation of drawer cabinets
The new HiPerCab® (High Performance Cabinet) drawer cabinets were presented at the LogiMAT trade fair in Stuttgart (19 to 21 February 2019) as a trade fair innovation. They are as user-friendly as they are uncompromising against unauthorised persons. Via an intuitive touchscreen the user is guided to the drawer, in which the desired item is safely stored and presented to the user. The drawers can be accessed by authorized users only.
01.04.2019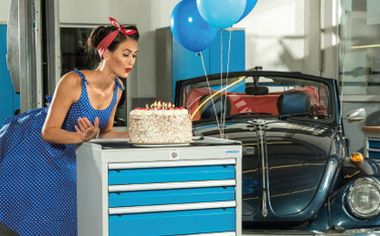 50th company anniversary
Bedrunka+Hirth celebrates its 50th anniversary. What once began in a small workshop with six employees has developed over the course of five decades into an innovative medium-sized company with around 120 employees. The new company building, intelligent products, quality "made in Germany" and modern online marketing pave the way for the global market, which demands individual and ever faster solutions.
01|2020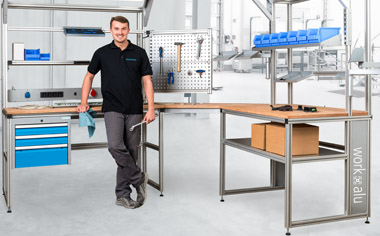 workalu® - the adaptable one
The workalu® has the ability to grow with the diversity of the workplace. Due to the flexible application possibilities of the aluminum profile as well as the numerous accessories, the workstation can be expanded at any time. This creates an optimal reach space, which is essential from an ergonomic point of view.
04|2020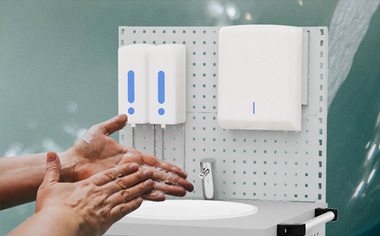 Health Protection Line - Smart Solutions in the area of "health protection"
Maximum hygiene, economy and safety thanks to products of the "Health Protection Line".
Hygiene stands, mobile and stationary workbenches or equipment trolleys equipped with disinfectant dispensers or "touchfree" towel dispensers guarantee the highest level of hygiene, economy and safety. The systems meet all legal requirements in terms of safety and health protection. Last but not least, all products can be powder-coated antimicrobially or equipped with special worktops on request.
04|2021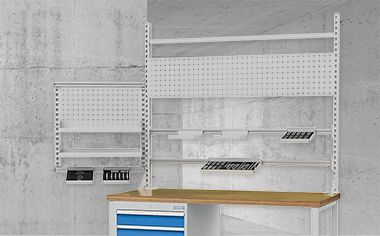 Multi-board setup accessories
In terms of order, safety and ergonomics, the new accessories for the mutli-boards are not only geared to the requirements of modern workflows, but above all to the special customer requirements.Thanks to the new mounting fix and the new swivel arms, tools can be stored within easy reach, thus enabling efficient and, above all, ergonomic workflows.