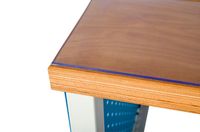 Safety non-slip mats as workbench coverings
Soft PVC workbench coverings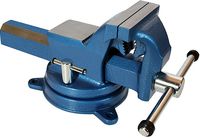 In different versions
Optional with turntable and lift
Product variants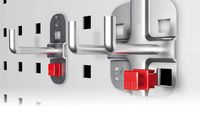 Perforated wall system: The right hook for every tool. The hooks can be easily hung and clicked into the required perforation. Nothing wobbles and the hooks remain in place.
Clear tool storage
Quick access
Orderliness based on a system and colours
Impact and scratch resistant plastic coating
Specially shaped beams
1.25 mm thick sheet steel
Concealed screw holes 14
Available in 4 different dimensions
Perforated wall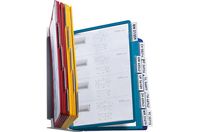 Complete set made of powder-coated sheet steel, for wall mounting
Metal wall bracket
A5/A4 format
Tab with blank insert labels
Product variants
Wall-mounted hanging tool cabinets
Stable sheet steel construction
Rear wall with square perforation
Square perforation 10x10 mm
Spacing from hole middle to hole middle 38 mm
Doors can hinged on the right or left
Cylinder lock with two keys
Mounting on the wall with dowels and screws
Product variants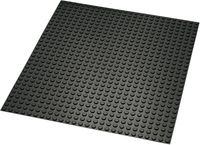 Preventive health protection by ensuring that workers stand in a safe and healthy way
High wear resistance
Good low-temperature behaviour
Exceptional ageing resistance
Durability
Excellent dimensional stability
Wear resistance
Environmental compatibility (free of silicon, CFCs, HCFCs, PVC propellants and solvents)
Special dimensions possible
Product variants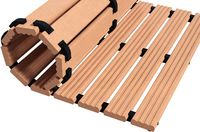 Chamber dried beech wood, mounted on elastic rubber feet
Connection: Stainless steel cable V2A, 3 mm thick
Available in various lengths, in multiple parts if necessary
Special shapes on request
With ramp on the broadsides or bevel on the long sides. Optional yellow safety marking
Product variants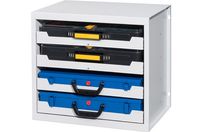 Individual subdivision for the plastic flex box and metal flex box. The insert boxes can also be used for individual arrangement in drawers, racks and cabinets.

The flex-box cabinet can be used for both heights of the metal and plastic flex-box.
Product variants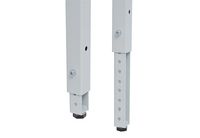 Height adjustment of 200 mm on a grid of 25 mm
Complete for a workbench with 4 feet

The worktables and workbenches are generally equipped with levelling feet.
Product variants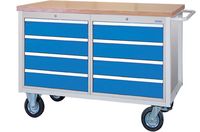 Mobile add-on (not retrofittable)
2x fixed caster, 2x steering caster with lock. Depending on roller size with 400 or 600 kg load capacity respectively 950, 990 or 1050 mm working height.
Product variants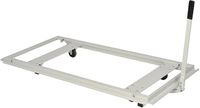 Lift/lower chassis retrofittable
Total weight without workbench: 26 kg
Dynamic load capacity: 450 kg
Static load capacity: 1000 kg
2x steering caster, 2x fixed caster, Ø 80 mm, polyamide
Not possible for workbenches with half shelf
Only suitable for workbench height 859 mm
Product variants