The TSM® TOOL-SERVER-MODULAR is the technical innovation in tool dispensing.
Automation in the area of tool management is constantly advancing. The Tool-Server-Modular lets you enjoy much leaner and more efficient tool management. The costs of providing, managing and using tools and small materials are significantly reduced by using our tool storage system.
Increased competition in the manufacturing industry is leading to greater cost pressure and forcing companies to consider optimising their production processes. Only companies with professional resource logistics can ensure a smooth and therefore economic production process.
Our fully automated tool dispensing system supports you on your way to professional tool management.
We meet your requirements with a modular drawer concept. Up to 100 modules can be connected to each other in every conceivable combination, accessible online around the clock by means of a chip card or PIN. Extensive lists and analyses which enable the tracing of tool consumption and user withdrawals are also available. The reporting software enables user-friendly evaluation of the collected data. A modern touchscreen and simple software dialogue boxes create a convenient way of working. The industrial PC is dust-protected to IP60, works without fans and is ideally suited for applications in tough manufacturing environments.

When developing the TSM®, a lot of attention was paid to creating a modern yet classic design. Thanks to the use of high-quality materials, the consistent application of aluminium decorative elements with a polished finish, the TSM® is a real eye-catcher. Well-developed service allows rapid deployment of the system with customers.
TSM®: the most advanced tool dispensing system, a product made in Germany.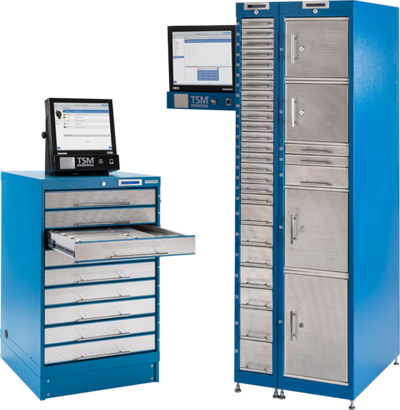 Your advantages:
High user friendliness
Guaranteed stock levels
Customised subdivision, including with single covers
Unlocked drawer and cover is displayed on the LCD display
Dispensing to authorised persons only
Reduction in personnel costs
24-hour connection possible to any ERP systems
Can be used where access control is required
Diverse variations
Up to 100 modules can be combined with each other to suit your needs
System is operated autonomously with its own processor unit
Individual access restrictions
Maximum utilisation through the chaotic storage principle
Part removal possible
No unmanaged drawer stock levels
Professional and sorted storage of materials and tools