These mobile material and small parts storage units are ideal wherever assembly, repairs or commissioning is carried out. Fitted with slotted panels and assorted practical open fronted storage bins on both sides, they keep all types of small material clearly arranged and ready to hand and ensure easy transport.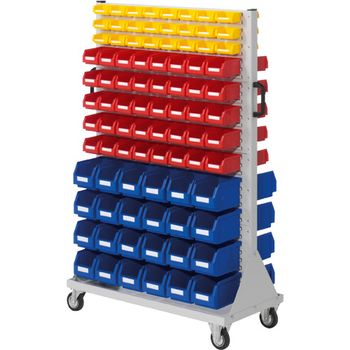 Small parts boxes L x W x H Size 6 = 230 x 140 x 130 mm | Size 7 = 160 x 105 x 75 mm | Size 8 = 85 x 105 x 45 mm
Modular structure, 3 different heights, impact and scratch resistant plastic coating, width 1000 mm, depth 500 mm
Double-sided use, ergonomic handles, horizontal mounting
Dismounting of open fronted storage bins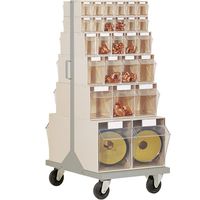 The space-saving helpers, some of which can be fitted on both sides, can be individually equipped and quickly modified at a later date using the elements that can be attached or inserted without tools.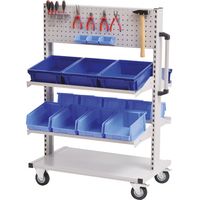 The high felxibility of our multi-carriages fits perfectly to your tasks.