workraster - the structured one
The workraster is the "entry-level model" among our ergonomic workplace systems. Thanks to a structured grid arrangement of 38 mm, the work bench can be individually set to your required height and is therefore suitable for both sitting and standing activities. In particular due to the linkage with roller and small roller conveyors, this system is ideal for a smooth production flow. Thanks to its remarkable flexibility in terms of form, additional modules can be added to the basic work benches at any time. Double-sided workstations are also no problem. With a load capacity of 300 kg with an even load, it is ideal for the assembly of small to medium-sized parts.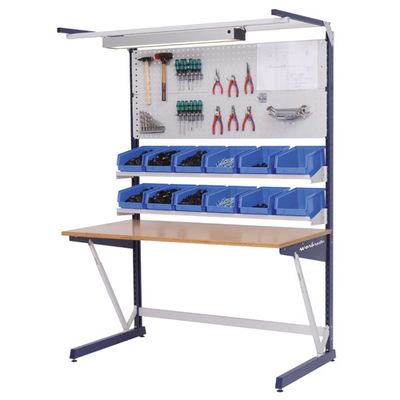 Basic module models: Single or double for double-sided workplace design
Modular system: Basic modules are connected to each other by means of cross-members - no need for add-on modules
Retrofittable: Extension of existing workstations, inline and corner combinations possible
Energy: Direct supply of lighting, energy, compressed air
Frame widths: 1000, 1500 mm
Frame depths: 500, 800, 960, 1460 mm
Frame heights: 1348, 2070 mm
Work height without worktop: 715 – 1057 mm with reinforcement rod | Recommended: 829 mm
Height adjustment: Height grid arrangement of 38 mm
Frame design: L-foot
Load capacity: 300 kg with even load
Linking workstations and assembly lines
The linkage concept optimises productivity thanks to the arrangement of workstations according to the work sequence Production - Assembly - Inspection - Packaging. Intermediate transport is avoided, distances are reduced and the working cycle is increased.

The workraster system is among the most efficient systems on the market. Due to the use of standard modules, workstations are interlinked, thus optimising the production flow.
All modules are height-adjustable!
Transport path
The workpiece carriers are transported on the roller conveyors. The path is created by a string of modules.
Linking workstations
The assembly line starts with a basic table with a roller or small roller conveyor. The consecutive conveyors are supplemented by add-on tables or interim connections (labelled as ZM). A basic table with a roller ball or small roller conveyor follows each roller ball/intersecting bridge.
Linking
The workstations are connected using connection, linear or corner modules.Module lengths: 1000 and 1500 mm.
Workstations
The workstations are generally basic tables. With workline, they can either feature a roller ball board (for directly passing on the workpiece) or a worktop. With workraster, the worktop is combined with the conveyor.
Change of direction
The direction of the workpiece carriers is changed by means of roller ball tables or intersecting bridges.
The basic modules are designed according to the intended application. The various components can be individually combined, linked and assembled in a simple modular system. Working height and gripping spaces are adapted on site.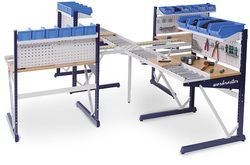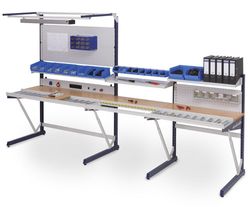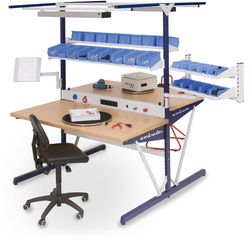 Arrangement variant Double
basic module