TSM® Tool-Server-Modular - Spiral vending machine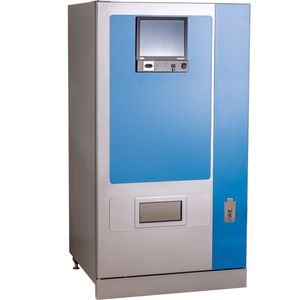 Smart goods dispensing device with gentle manners
The particularly economical "Spiral Vending Machine" complements the smart goods and tool dispensing system TSM® (Tool Server Modular). It is designed to help companies automate storage and controlled dispensing of C-parts, office and work materials, or repair and maintenance tools to help reduce consumption costs.

At first glance, the inner workings of the Spiral Vending Machine resemble those of the devices used at railway stations to e.g. supply travellers. When chocolate bars and snacks fall into the dispensing chute, the TSM Spiral Vending Machine handles the goods with extreme care. Whether you are requesting cut-off wheels or packs with disposable gloves - a so called soft lift gently transports everything to the chute. This lift solution such as the spirals are made of stainless steel, plinth trim in housing colour or door rebate cover are expression of a high-quality system and high quality requirements "made in Germany", for which Bedrunka + Hirth is known.
Outstanding features of the new Spiral Vending Machine are:
Can be fully integrated into the patented TSM system
Access rights can be regulated and stock levels controlled
The system provides information at all times and reports when stocks are running out
The system orders direct replenishment. Obviously, there is an option of multiple suppliers
TSM software offers a Windows user interface
Numerous interfaces to ERP and SQL database
The system can work with servers, is expandable and can manage external warehouses

TSM® Spiral vending machines can be used as follows:
As basic module with Panel PC
As 17-inch touch display
As add-on module in an existing TSM infrastructure
The spiral vending machine perfectly matches both the user's IT infrastructure and the requirements of its product range. All components can be customized. Goods compartments can be equipped with up to ten powered spirals. With a maximum of six compartments, a total of 60 spirals can be used. The diameter and winding of the spirals can be designed according to the products to be stored. Horizontal and vertical subdivisions are also possible. This prevents particularly narrow parts from falling out of the spiral and bulky materials have sufficient contact surface. Reinforced goods compartments with heavy-duty bearings and load capacity of up to 40 kg allow storage of even heavy parts or tools.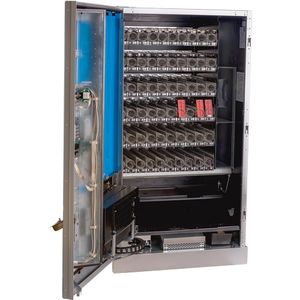 Size: 990 x 880 x 1830 mm (W x D x H)
Weight: approx. 400 kg (without products, depending on type)
Electrical supply data: 230 V / 50 Hz / 10 A
Power consumption: 670 W
Space for 1200 packaging units available
Size of one packaging unit: 54 x 19 x 180 mm (W x D x H)
A light barrier is used to monitor product dispensing
Height adjustable goods compartments made of stainless steel
Individual adjustment to products possible
Heavy duty guide up to 40 kg
Can be equipped with up to 7 goods compartments