The back-friendly solution for ergonomic working
The electric drive of the mobile workbench, which can be switched on as required, enables fast and effortless starting, even with heavy loads, and can thus accelerate operations. Above all, however, it relieves strain on employees: the e-workdrive prevents discomfort to the neck, shoulders and wrists and reduces the number of absences caused by illness.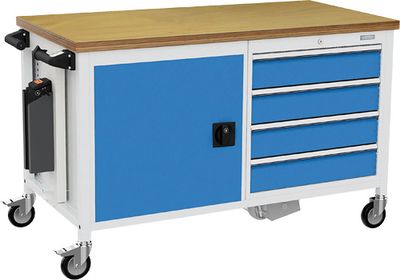 Ergonomic operation
Operation via a button on the ergonomically designed handle
System and battery status can be read off the LED display
User-friendly installation in the case of retrofitting
Continuously variable speed adjustment, max. speed 4 km/h
High durability
The rechargeable battery can be switched on/off via a key
With a fully charged battery and a maximum load capacity of 400 kg, approx. 200 driving cycles are possible
Flexible use
The starting aid can be switched on as required. In Standby mode, the module has no ground contact
Improved driving stability
Fifth wheel for improved cornering stability and directional stability on long distances
Optimal ground contact
Uneven floors are compensated by the optimal ground contact of the caster
Healthy employees
Heavy loads can be moved effortlessly. This prevents physical problems in the neck, back, shoulders and wrists.
Practical system solution
Easy to integrate system solution, consisting of drive unit, control module, manual control unit, battery, charger and mounting set
Accelerated processes
Since high loads can be moved faster, work processes are accelerated