Hinged door cabinets with or without viewing window, attachment or tall cabinets with roller shutter and the optional electrically operated RotaRex® cabinet optimise work processes: all CNC tools are within reach.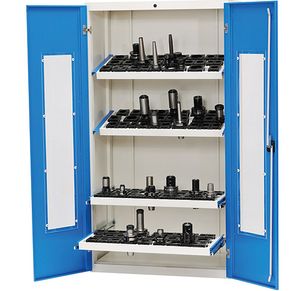 Robust, welded sheet steel construction
Resistant powder coating
Drawers with full pull-out 100 %
Solid sheet doors with moulded recess cylinder lock
When using drawers and pull-outs, the opening angle must be 130°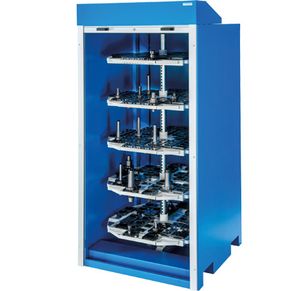 CNC RotaRex® large cabinet
Your advantages
Barrier-free access to the cabinet - no impairment by pull-outs
Space-saving - high quantity of inserts with minimal storage area, up to 400x SK30 or up to 300x SK40 tools fit in 1m2
Optimised work process as all tools are quickly within reach
Opening/usable height: 1790 mm
Forklift base for transport; Warning! RotaRex® must not be transported when loaded!
Roller shutters
The electrically driven roller shutter is operated by remote control
Alternatively possible with spring-loaded shaft or hinged doors
Multiple cabinets can be opened simultaneously with one remote control (on request)
Aluminium-coloured plastic slats
In case of a power failure or technical defect, emergency unlocking is provided on the rear of the cabinet

Column
Precision steel tube, Ø 60 mm
Galvanized
Total load 1.5 t
For holding up to 5 CNC rotating frames individually adjustable on a grid of 25 mm
Individual readjustment of the column position thanks to a tongue on the bottom