MRS® Modular shelving system
The MRS® - modular shelving system - enables flexible interior design at all times. Drawers, shelves, vertical pull-outs, CNC storage systems and closed hinged door cabinets can be ideally integrated into a single product. The system offers three different heights.

The unique feature of the product is its individuality. Configure your drawer shelving as you require. Our extensive range of equipment and accessories offers you a large number of constructive alternatives for implementing highly diverse spatial planning economically. The drawer shelving can be subsequently extended and expanded with additional modules. It combines the advantages of a drawer cabinet with the advantages of shelving, thus creating a product that can be perfectly adapted to your requirements thanks to the optimal use of space. Not only can you use the MRS® as wall cabinet shelving, but also as a room divider.
"We offer our customers complete support, from planning to installation"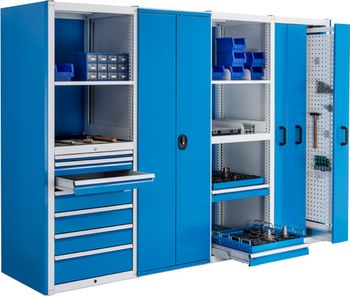 Precise visualisation of your draw shelving thanks to our planning programs

With a library containing all our products for the SketchUp drawing program, this planning program - along with the pCon drawing program - is the ideal design tool for fast, efficient, three-dimensional modelling and presentation. Free, flexible designs are produced in no time at all in order to implement your requirements, layouts, size and colour choice with creativity and dynamism.

By building up our extensive library, we are in a position to visualise your ideas and suggestions quickly and easily in 3D. Can you visualise what your modular shelving system could look like? Let us show you.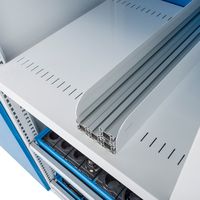 The suitable supplement when using a hinged door. The shelves are height-adjustable in 25 mm increments and can thus be adapted to the stored goods.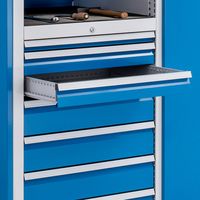 The sturdy drawers made of high-quality sheet steel are available with different pull-outs and carrying capacities as well as suitable partitioning material.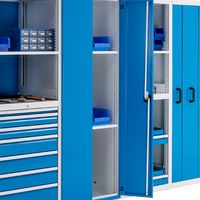 Doors are the right choice for storing larger objects. The lock integrated into the handle shell allows the doors to be locked securely.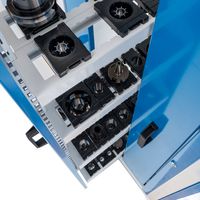 Vertical pull-outs are indispensable for order in your workshop. The stable, powder-coated steel construction is characterised by a load capacity of 300kg per pull-out.