workergo - the versatile one
The workergo is the most versatile workplace systems. Six different frame widths, three different frame depths and four different types of height adjustment make the workergo 4-foot a versatile worktable.
Standard colours: RAL 7035 Light grey/RAL 5012 Light blue
Base frame made of 45 x 45 mm steel tube
Cross-members made of 40 x 40 mm aluminium sections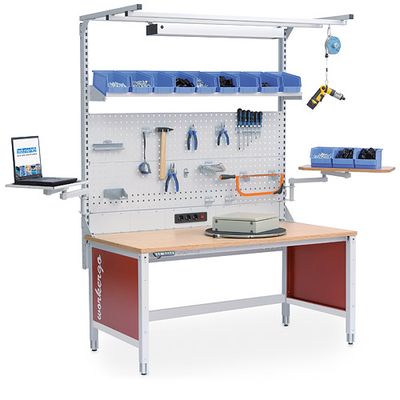 Modular system: Freely selectable combinations from frame to worktop
Retrofittable: Multi-board setup and optional accessories
Energy: Direct supply of lighting, energy, compressed air
Frame widths: 1000, 1250, 1500 and 2000 mm (750 and 1750 mm on request)
Frame depths: 600, 750, 900 mm
Travel speed: 6.25 mm/s
Work height without worktop: 670 – 1015 mm | Vertical travel: 345 mm
Height adjustment: Four different types: Clamp fixing, crank adjustment, electric height adjustment with 1 motor, electric height adjustment with 2 motors
Frame design: 4-foot
Load capacity: 180-300 kg with uniform load depending on height adjustment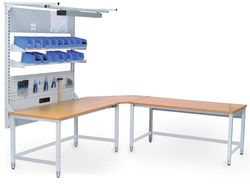 Corner combination with large corner panel comprising two basic tables.
Multi-board setup not possible on corner combinations.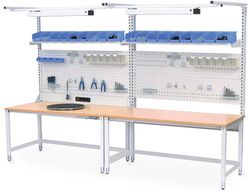 Linkage with two basic tables with multi-board setup on both tables.